Jim Gaffigan knows his way around a food joke, as evidenced by his pockets full of cash that came pouring in after he figured out a hilarious way to say Hot Pockets. His stand-up has a ton of food bits (not literal bits of food, but jokes about it), he wrote a whole book called Food: A Love Story, and he quips plenty about nourishment and being a pudgy guy on his new show The Jim Gaffigan Show on TV Land. To celebrate Gaffigan's mastery of food material (not literal food material, jokes about it — c'mon guys), here are his 12 best gluttonous jokes.
Flickr/Mike Mozart
"It's fun telling people you go to McDonald's. They always give you that look like, 'Oh, I didn't know I was better than you.'"
— Jim Gaffigan: Mr. Universe
"Ugh, I'm so full. I guess I'll have some cheese. Hmm, I don't even like this cheese. I guess I'll finish it."
— Food: A Love Story
"I do love our excuses [for eating dessert]. 'I have a sweet tooth.' Oh, so you're ordering it for your tooth, that's interesting. Because it's going straight to your ass. I think your ass owes your tooth an explanation."
— Jim Gaffigan: Beyond the Pale
"You ever eat so much you feel sick? Isn't that the best? Then you feel like a real American."
— Jim Gaffigan: Beyond the Pale
Flickr/Terry Presley
"[Food] delivery is a combination of my two favorite activities: eating and not moving."
— Jim Gaffigan: Beyond the Pale
"I prefer the Chinese restaurants that have the silverware on the table when you arrive, because there's nothing more humiliating than starting with chopsticks and having to turn to the waiter and say, 'Yeah, uh, hi. I'm too white. Do you have a shovel back there? Chopsticks are fun, but I'd rather eat than play Operation.'"
— Jim Gaffigan: Beyond the Pale
"Nobody believes in racial profiling until they get a red-haired sushi chef with a Southern accent."
— Food: A Love Story
"It would be embarrassing trying to explain what an appetizer is to someone from a starving country. 'Yeah, the appetizer — that's the food we eat before we have our food. No, no, you're thinking of dessert — that's food we have after we have our food.' We eat tons of food. Sometimes there's so much we just stick it in a bag and bring it home. Then we throw it out the next day. Maybe give it to the dog."
— Food: A Love Story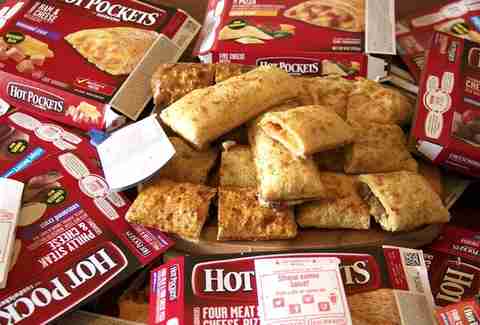 Andy Kryza/Thrillist
"Recently they introduced the breakfast Hot Pocket — finally! I can't think of a better way to start the day. 'Good morning! You're about to call in sick.'"
— Jim Gaffigan: Beyond the Pale
"Hot dogs are like strippers, really. Nobody wants to know the backstory. We don't want to think about how they came to be in their present form of employment. 'Well, when I was twelve, my stepfather…' Not interested! Put some mustard on that."
— Food: A Love Story
"I don't know much about grammar, but I think kale salad is what they call a 'double negative.'"
— Food: A Love Story
"Valentine's Day — the tradition is we give each other hearts filled with the gamble chocolate. Have you ever eaten anything out of those big red hearts with any confidence? Hmm, well, this could either be really good or totally nasty. I'm just pig enough to find out. Ugh, I got the one filled with toothpaste! I'm gonna have to eat another nine to get rid of that flavor."
— Jim Gaffigan: Beyond the Pale
Sign up here for our daily Thrillist email, and get your fix of the best in food/drink/fun.
Lee Breslouer is a senior writer for Thrillist and loves Jim's new show. Follow him to a full DVR at: @LeeBreslouer.